Rest in Peace, Chuck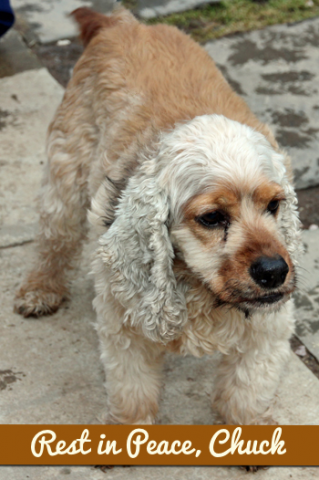 The rainbow bridge has gained another Cocker angel. On August 12th, our beautiful Chuck passed away after nearly six years in OBG long-term fospice care. He had Fanconi's Disease, a kidney disorder, and in recent weeks his health had significantly deteriorated. Chuck and his brother, Duke, had come to OBG in August 2010 after their owners lost their jobs and could no longer care for them. Duke does not have the disease. 
We are forever grateful to Chuck's foster/forever family for the incredible care and love they gave to Chuck and continue to give to Duke. Chuck required daily life-saving nutritional supplements, access to filtered water and frequent potty breaks. Blood tests were required every 10 weeks to calibrate his supplements and medications. Our hearts go out to Ed and Doug. We know how much Chuck is already missed. Rest in peace, sweet boy!