OBG Welcomes the Georgia Four!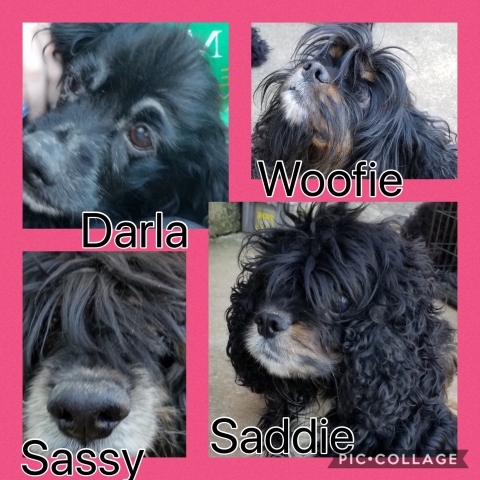 OBG is kicking off 2018 with a special rescue! In the wee hours this morning, we welcomed these four precious girls from Georgia - Sassy, Darla, Woofie, and Saddie. Their owner passed away and the girls need a lot of medical attention. We are so thrilled to help them. 
Sassy and Darla are estimated to be around 12 years old; Sassy is possibly blind and deaf. Woofie and Saddie are younger (possibly 6-8) and Saddie is blind (from birth). This info is tentative until our vet examines them. Stay tuned to our page for more info and photos! 
We have a lot of people to thank for making this rescue possible: Angels Among Us Pet Rescue in Georgia for reaching out to OBG; Peachtree Corners Animal Clinic in Norcross, GA who saw the girls quickly, got one of them meds for painful glaucoma and bathed them -- all in less than a day; Caroline Canady (niece of OBG's Cindy Readal) who picked them up from the vet in GA and drove 2-3 hours to the transport pick up location in South Carolina; Taryn and the transporters with Day Before the Rainbow Rescue and Adoption who got the girls to VA; Cindy Readal for meeting the transport at 4am and keeping the girls warm in her garage until the vet opened, and lastly to the staff of Hayfield Animal Hospital for providing crates for their transport pick up and opening early today to receive the girls and get them settled. #ittakesavillage