Walk Your Dog and Help OBG!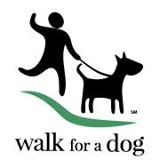 Walk your dog and help OBG earn free money! Check out an app called, Walk for a Dog (created by www.wooftrax.com). It is a free, new smartphone application that allows you to support OBG every time you walk your dog. The more people walking for OBG, the more OBG can receive, so please spread the word. You can use the app even if not walking with your dog and while running too. Click here for instructions on how to download the free app to your iPhone or Android devices. Search for OBG under Newington, VA.
Please spread the word on social media for your friends and family to walk for OBG! Every penny helps the wigglebutts!