OBG's "Back in Black" Campaign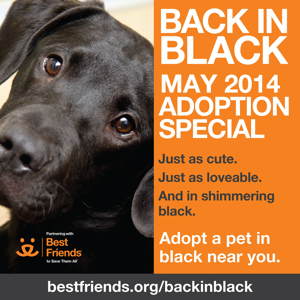 Back in Black 2014 is here! OBG is participating in Best Friends Animal Society's 4th Annual "Back in Black" campaign to increase awareness and adoption of black and mostly black dogs. 
Throughout May, we're celebrating our fabulous black (and mostly black) foster dogs.  Looking for a new best friend? Come on by and meet some of our black beauties at any of our May adoption shows. Adoption fees on OBG's black pups will be reduced to $300 during May. 
And in case you are wondering -- there are some fun advantages to adopting a black dog:
1. You can't tell if they are dirty and their teeth always look white.
2. A black dog is a great accessory to any outfit. They go with anything.
3. Black is very slimming – standing next to your black dog will make you look extra-slender.
4. Save time on date night – you won't need to use the lint brush on your little black dress.
5. Your dog doesn't care what color YOUR hair is!
6. Black dogs are the most fun to play hide and seek with.
7. They make you look beyond the surface to find true love and beauty.
8. They are the least likely to be adopted and need your love the most.