Heart Health Month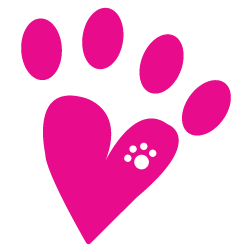 February is American Heart Health Month for both pets and people! Each year, heart-related conditions such as heart disease, heartworm, and heart murmurs affect our furry family members in a big way. CardioDVM reports that 10 percent of dogs have heart disease, and the likelihood of diagnosis increases with age affecting 25% of dogs 9 to 12 years of age and as many as 75% of those 16 years of age or older.
As with most diseases, catching it earlier is better. A long and happy life is still possible if symptoms of heart disease in pets are caught early. Warning signs include a dislike of exercise or play, shortness of breath, difficulty breathing, and even restlessness during sleep. Also keep an eye out for fainting and blueness of the skin and mucus membranes (cyanosis). Make sure to have your pet's heart checked annually and twice a year as they get older. 
OBG has four foster dogs with heart conditions. Treatment and monitoring is expensive but thanks to your support, OBG is able to provide all medical treatment while in our care. We welcome donations to help offset their expenses. You can click on the donate button on the homepage to donate. Thank you!
Sampson has a significant heart murmur and needs multiple daily meds ($100 a month) and an EKG every 6 months ($500).  As of Dec 2016, the vet thinks that Sampson will likely go into heart failure in ~2 years but until then he can be managed with medications. He is in a loving foster home in Virginia.  
Dee Dee is four years old and has a significantly enlarged heart. She requires daily medications estimated at $100 a month to remain comfortable. Sadly, the doctors estimate she only has a couple of years at most to enjoy life.  She is in a loving foster home in Virginia.
Lunny is 5-6 years old and has a heart murmur due to a ruptured chordae tendoneae.  Luckily he does not need any medications at this time, and he does not show any indications of heart failure. He will need to see a cardiologist again in July 2017 for another evaluation (estimated cost $500).  
Irine is 4-5 years old and arrived to OBG heartworm positive. She is undergoing life-saving treatment now and we expect she will live a long and happy life. The cost of treatment is $1500 and a lot of discomfort for poor Irine. Heart worm prevention is critical to the health of our dogs. Just a monthly pill will keep your dog safe.