Freedom 46 Rescue Pupdate on Atticus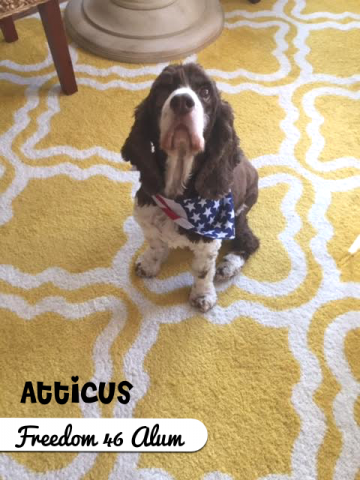 Another incredible pupdate on a Freedom 46 pup! Here's Nutmeg, now named Atticus! Such a handsome boy and we love his bandana! Enjoy this great update from his Mom. Turns out Atticus is a mischievous boy! 
"Since his adoption in November, Atticus has enjoyed acquainting himself with city living and all the smells that accompany it. He loves meeting new dogs on our walks around the neighborhood -- his little tail wags furiously whenever one approaches to check him out. At the local dog park, he prefers to stick by my side and watch the other pups run around. He's a Velcro dog and follows me everywhere around the house. He gets particularly excited when I walk into the kitchen. Despite his innocent face, he can be a bit of a rascal -- his previous life as a stray equipped him with some Macguyver-esque tendencies in the pursuit of food. I had to purchase a child safety lock for my freezer after he got into it one day and ate a bunch of uncooked chicken breasts and Brussels sprouts! Atticus is a complete love, and I'm so thankful for OBG for bringing him into my life!"
He looks pawmazing! Thank you for giving Atticus such a wonderful forever home!