Freedom 46 Pupdate on Ella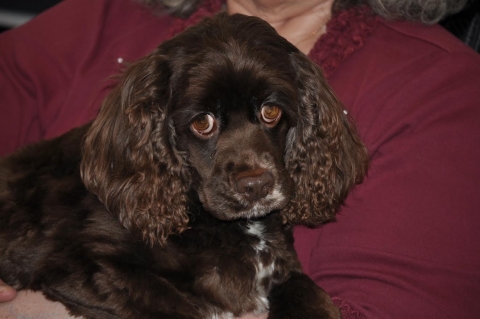 Pupdate on beautiful Noel, now named Ella! It's been quite a year for Ella. She was HW+, had Giardia, worms, an ear infection, UTI, in addition to be very scared. She successfully completed her HW treatment and is completely healthy now. 
Ella's foster, now forever, Mom told us she is a very sweet girl who fit into their group pretty quickly. She is still skiddish around new people but comes around once they let her feel comfortable around them. Ella craves attention, loves playing ball with her fur brother, Jake, and loves soft doggie beds, her crate, and anything she can chew. They learned the hard way that if she deemed something could be chewed it would be --- a couple of doggie beds didn't make it. LOL
Her Mom told us one of the other things she loves doing is to watch TV. If they keep the TV on for her she can be entertained for hours. She barks and jumps up at the TV whenever a dog is on the screen and the more action on the screen the better. She will sit at attention, not moving a muscle until she sees something that excites her, she is very self-entertaining. Pawmazing!
She is blossoming more each day, a very pretty, sweet girl and is without a doubt a great addition to our family.
We thank Ella's family for taking her in, getting her well and giving her such a wonderful forever home.